Oxford Retirement Piggy Bank Drive for The Phoenix Children's Hospital!

In 2021, Oxford will be partnering with The Phoenix Children's Hospital. Our charitable and community outreach programs will work in support of their mission all year long. Every contribution to Phoenix Children's Hospital has a direct impact on their young patients. Donations from caring organizations and individuals make it possible for them to offer the very best medical specialists, cutting-edge technology, and family-friendly services without regard to the family's ability to pay. We are thrilled to play a part in helping them achieve their mission. Oxford is hosting a dollar match program for monies donated by our clients throughout the year.
If you'd like to get involved or make a donation, please contact Lexi in our Marketing and Outreach Department at 623-933-9508.
Oxford Retirement's 5th Annual St. Mary's Client Volunteer Day
It is well known that Oxford Retirement and St. Mary's Food Bank have a longstanding 10-year partnership. This year, we were overjoyed to be able to continue our 5-year tradition of hosting a volunteer event for our clients at the St. Mary's Surprise Warehouse. Despite the everchanging atmosphere that 2020 has presented, our clients banded together and sorted over 12,000lbs of donated items to be distributed to those in need. We want to say thank you to all volunteers and to those who have donated to our St. Mary's Drop-off box located in our Sun City office.
Ottawa University – 15950 N. Civic Center Plaza, Surprise, AZ 85374
Oxford Retirement – 10699 W. Bell Rd. Sun City, AZ 85351
Oxford Retirement's 4th Annual Christmas Angel Program for Save the Family, 2019!
Four years ago, Oxford Retirement started their own Christmas Angel program to benefit Save the Family, an organization that has been helping families and changing lives for 30 years! Last year, they served more than 500 families facing a multitude of challenges, including job loss, domestic violence, divorce, foreclosure and poverty.
Over the last few years, many of our wonderful clients have participated in this program and their kindness and generosity has helped make Christmas special for so many deserving families!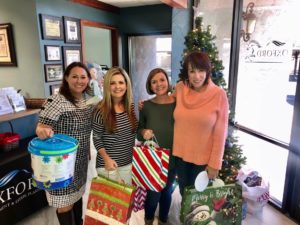 Together, we can make a lasting impact in our community.
As prominent figures in our community, we feel it's important to do our part in giving back and leading by example. We are passionate about combating child hunger and ask for your help in our support of St. Mary's Food Bank and Save the Family.
St. Mary's Food Bank
Arizona ranks as one of the highest states in the U.S. for children facing hunger on a daily basis. St. Mary's Food Bank works tirelessly to change that. Since 2011, Oxford Retirement has donated more than 12,500 pounds of food to St. Mary's!
Here's how you can help:
Drop off donations at our office. Throughout the year, we have donation bins set up to collect nonperishable goods from anyone who walks through our doors. St. Mary's has regular scheduled pickups from our office to collect donations so they go to those in need in a timely manner.
Participate in one of our food drives. Occasionally, we organize special food drives for St. Mary's Food Bank. Check our calendar of events to find out when the next one will take place.
For more information, please visit www.firstfoodbank.org.
---
Save the Family

Save the Family is an organization based in Mesa that helps families rebuild their lives from a number of life's challenges, including job loss, domestic violence, divorce, foreclosure and poverty. Save the Family provides a variety of support services and tools to help these families get back on their feet, such as financial literacy education, career development support, budgeting workshops, parenting classes and self-esteem coaching.
Here's how you can help:
Donate gifts for children. Oxford Retirement collects presents for children affected by Save the Family so that they have something to open around the holiday season. Let us know if you're interested, and we'll let you know some wish list items.
For more information, please visit savethefamily.org.
Ready to Take The Next Step?
For more information about any of the products and services listed here, schedule a meeting today or register to attend a workshop.